Women's World Cup 2019: RASASC's Favourite Moments So Far!
We've seen many firsts at this world cup, starting with Sam Kerr's hat trick for the Matilda's. Kerr is the first Australian player to score a hat trick at a world cup and ultimately went on to score a fourth goal during the same game, sealing their second place finish in the group stages. Australia have left us at the knockout stage, yet it's been an absolute joy to see Kerr's skills and leadership during the tournament.
For the first time ever this Women's World Cup saw two African teams, Cameroon and Nigeria, progress to the last 16. Whilst we've said goodbye to both teams during the knock out stage, there's so much progress to celebrate and look forward to in the future.
Keeping in the spirit of firsts, Jamaica also scored their first ever world cup goal, with a wonderful finish from Solaun.
In their first appearance at the women's world cup in 20 years, Italy's azzurre has been one of the biggest surprises by finishing top of their group and progressing to the quarter finals. Whatever the outcome in their next game, Italy have won all of our hearts and shown us that anything is possible.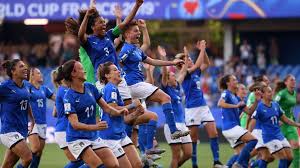 And finally, Brazil's incredible forward Marta, hit an all-time goal scoring record for a world cup of 17 goals! Inspiring us on and off the pitch, with her palpable feeling and energy we leave you with her own words, "Cry in the beginning so you can smile in the end"